Jeonju, South Korea within top three of Lonely Planet's First-Ever Best in Asia List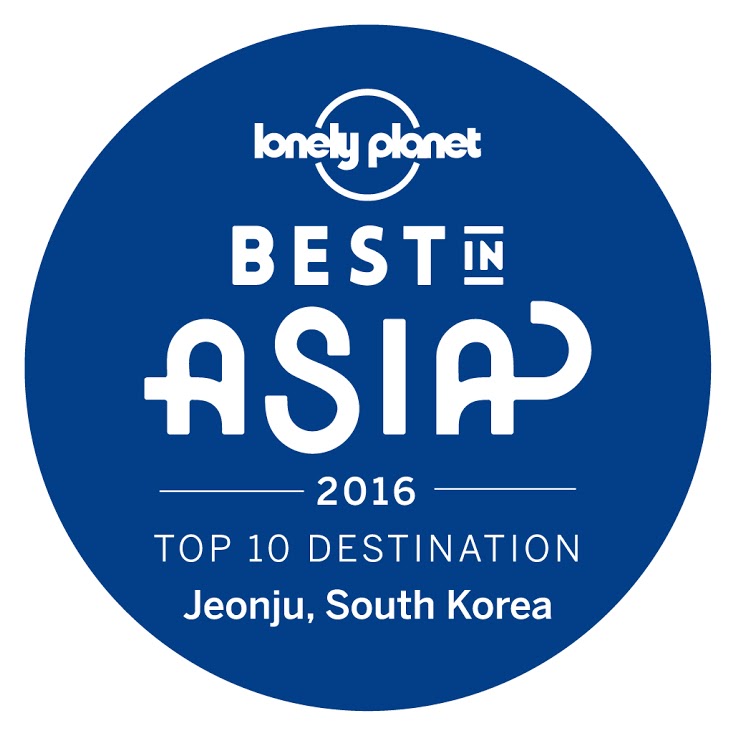 Lonely Planet, the world's leading travel media company, has today announced its inaugural Best in Asia list – an agenda-setting collection of the continent's 10 best destinations to visit over the next 12 months.
For this first-ever Best in Asia list, Lonely Planet's in-house Asia experts have named Jeonju, South Korea within their top three.
"In compiling our Best in Asia 2016 list," Lonely Planet's Asia-Pacific Media Spokesperson Chris Zeiher says, "our Asia-expert authors have explored the continent's most electrifying cities, trekked through steaming jungles and even swum in bountiful seas to seek out the spots you simply cannot afford to miss."
"The result," Chris says, "is a varied hit list of classic destinations offering a fresh twist for travellers, regions packed full of action, and edge-of-the-map places you may never heard of."
Having long flown under the radar as the country's top foodie destination, Jeonju has finally started to make mouths water further afield. The birthplace of Korea's most famous dish, bibimbap, now lures a younger crowd thanks to its fast-emerging street food scene.
Bibimbap may appear to the uninitiated to be a simple dish of mixed rice, 'namul' (seasoned vegetables and herbs) and 'gochujang' (red pepper paste) but it has much greater resonance. Within Bibimbap, locally obtained bean sprouts are the main ingredient to be added to rice and then cooked in beef broth. Just before the rice is fully cooked, bean sprouts are mixed with the rice and then the other ingredients such as 'mung' bean curd, raw beef and nuts are placed on top.
In choosing the ingredients the colour is also considered carefully, according to traditional cosmology: each direction of the compass, the precise location of the diner and what season it happens to be are all indicated by the use of 5 basic colours, which are blue (and green), red, yellow, white and black.  Certainly the universe is taking note of Korean food, as eating this cuisine is on trend, flavoursome and above all healthy!
Lonely Planet's Best in Asia 2016 is available online, with accompanying articles to each destination, atlonelyplanet.com/best-in-asia.
For more information on Jeonju and South Korea contact Mr R Salameh – PR Manager, Korea Tourism Organisaton on london@gokorea.co.uk